Nobody likes to be micromanaged. There's nothing worse than feeling the hot breath of your nervous boss on your neck when you're trying to get your work done.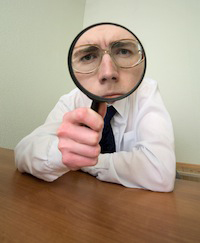 The good news is that nobody but nobody wants to BE a micromanager either. It just adds to a manager's own workload to be looking over the shoulders of everyone in the office.
So then—if nobody likes being micromanaged, and nobody likes doing it, why does it ever happen?
I'll tell you why—because there's nothing worse than sitting in your office looking through the glass at a bunch of people who are either busily doing things right or busily screwing things up so badly that it will take weeks of man-hours and thousands of dollars to set things right.
And you have no idea which it is.
Yes, it's lonely at the top. But worse than that is the feeling of powerlessness that well-meaning managers can feel when they don't know what's going on in their department—but know very well that they will be held responsible by THEIR managers for the quality of the work done on their watch.
The solution is not to wish micromanagement away, but to solve the information gap that makes it happen.
It's a two-step cure:
At the beginning of a project or initiative, get clear directions regarding the results and processes your manager expects.
Then, as you work, report frequently on where you are in the process, what your struggles are, and what you're doing to overcome them.
It's really that simple. If you begin with clarity and keep your manager informed at each step, you've fixed the information gap that causes a nervous manager to open that door and sniff around. Keep him or her in the loop, and your manager will be more than happy to let go.
Don't leave out that bad news—your struggles and roadblocks along the way. A manager who only hears happy-happy-joy-joy will quickly turn suspicious, and out comes the snoopy nose again. A boss I had in my twenties used to say, "Tell me the good news, tell me the bad news… but don't EVER surprise me." I didn't—and as a result, he never micromanaged my work.
Daily and weekly reporting about where you are compared to your work plan will make you ALL so very happy! When you earn trust, your manager WILL let go—unless he or she is neurotic…but that's a topic for a different day.